Porch Herb Garden
Fresh herbs are a great addition to any meal you're planning on making this summer. What's even better than fresh herbs from the farmer's market? Fresh herbs from your porch you've grown yourself! We've got a few simple steps to create an herb garden that will fit right on your porch.
STEP 1
Start with a large terracotta pot of at least 20 inches in diameter, putting on top of a stable plant stand. Place another small terracotta pot up and down inside the pot at least 3 or 4 inches of space will be left around it.
STEP 2
Fill that space with potting soil. Add up to three or four more terracotta pots above it and repeat the same step we did with the first pot again and again. Continue building the tower this way until you get enough height.
STEP 3
Add a different variety of your favorite fresh herbs to each pot! Some of our favorites include basil, rosemary, parsley, mint, and chives!
STEP 4
Spice up your favorite summer dishes with your freshly grown herbs and enjoy!
DIY Fire Pit
Nothing embodies the quint-essential summer night quite like gathering with friends and family to roast s'mores & hotdogs around a firepit. Creating a fire pit is easier than you think with these simple steps and costs about $100!
STEP 1
Using a piece of string tied to a 3′ section of round rebar post, we marked out a perfect circle by spray painting a line on the ground as we walked with the string around the post.
STEP 2
Using the same method with an 11′ piece of string tied to the rebar post, create a second line 11′ from the center of the fire pit to create the sitting area space.
STEP 3
By marking out to 11′, it created a wide 8′ area in front of the pit that is perfect for sitting chairs and benches around the fire at a safe distance.
STEP 4
Dig down deeper about 12″ wide on the outer edge of the 3′ circle to create a footer for our stone. We used concrete in the footer area, but 4 to 6″ of limestone screenings or packing gravel in the "footer" area is more than enough to work perfectly.
STEP 5
Next, spray the 8′ sitting area with high strength vinegar to kill off the grass – and then lay a 2″ layer of limestone screenings to form a strong and hard packing base followed with a 2″ top coat of #8 pea gravel.
STEP 6
Build the stone wall by pre-sorting the rocks so the larger stones form the base and the smallest stones form the top.
STEP 7
Set up some chairs and invite your friends and family over!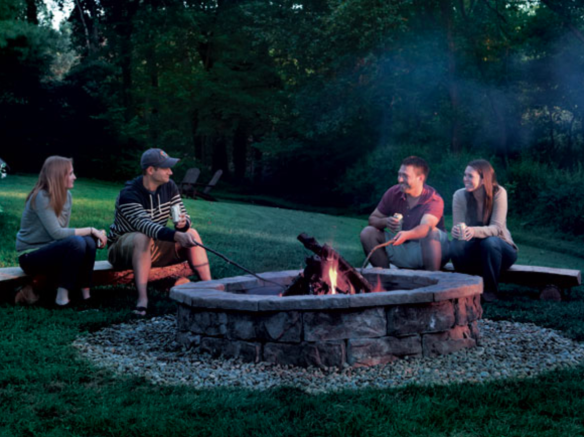 Outdoor Dog Washing Station
Of course, we don't want to forget about our furry friends! Keep mud and dirt out of your house by getting it off of Fido in this easy outdoor dog washing station!
STEP 1
Use string to mark off a 3'x3' area of grass near a hose spicket.
STEP 2
With a garden trowel, edge out the marked off area and dig 2"-3" inches deep and smooth out the area.
STEP 3
Pour pea gravel into the dug out area and smooth out the area.
STEP 4
Add larger landscaping stones on top of the pea gravel.
STEP 5
Use brick pavers to form a border around the stones.
STEP 6
Wash all that mud and dirt off Fido before he goes inside after playing in the yard or after any adventures you have this summer!
3 Easy DIY Yard Projects You Can Complete This Weekend
While these are some great DIY projects you can accomplish in a weekend, Glenn Tissue Builders is here for you when that project needs to be handled by the professionals! Glenn Tissue Builders prides itself on top quality craftsmanship and customer satisfaction. Contact us today and learn more about how Glenn Tissue Builders can help complete your next renovation project or build your dream home.